Phase-out tobacco products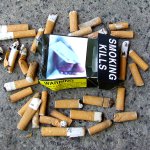 Tobacco is one of the deadliest consumer products on the planet.
An estimated 40-50 Australians die prematurely every day from tobacco related diseases. We will protect current & future generations, by phasing out tobacco products within 2 years. This will improve community health, longevity, productivity and reduce litter.
* Tobacco advertising on TV & radio was banned in 1976.
* Tobacco print media advertising was banned in 1992.
* Tobacco sponsorship of sport was banned in 1996.
* Plain packaging restrictions were imposed in 2012.
The federal government collects almost $10b/year from tobacco taxes. However, the health cost from tobacco related illnesses is estimated at $30b/yr.
Cigarette smoke contains many toxic substances: Benzene, hydrogen cyanide, tar, nicotine, formaldehyde, carbon monoxide, etc.
---
We will phase-out tobacco products.
---
Tobacco company donations to ALP & LNP:
Tobacco companies made significant donations to both the ALP and LNP in recent years.
ALP accepted $630,000 in donations from tobacco companies (1998-2004).
The Liberal Party accepted $2,391,217 in donations from tobacco companies (1998-2010).
The National Party accepted $584,095 in donations from tobacco companies between (1998-2010).