Protect the Great Barrier Reef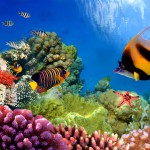 * Australia's Great Barrier Reef is one of the most spectacular natural wonders in the entire world.
* Let's keep it great.
* Today, more than 66% of the reef is in serious decline.
* The federal and QLD state governments continue to grant approvals for more coal ports and more LNG ports, with more dredging and more dumping of these acid sulphate spoils in the Great Barrier Reef World Heritage areas.
* Dredge spoils can travel up to 100km in ocean currents, and drastically reduce coral spawning due to deterioration of water quality.
* Turbidity means less sunlight reaches the corals with the obvious consequences.
---
Veteran reef observers have commented that the corals are simply not there like they used to be (ABC TV 4Corners - 18 August 2014).
The dredging in 2011 at Gladstone (in World Heritage area) of 46 million cubic metres was an environmental disaster – 4000 tonnes of silt leaking from bund walls every day; acid sulphate soils were disturbed producing high levels of toxic heavy metals in local fish stocks; 24hr/day underwater noise from shipping/dredging/pile driving; seagrass destruction; dugong decline; tens of thousands of shipping movements every month – and this was just the construction phase.
Abbot point coal port expansion: Senior scientists recommended AGAINST the dumping of 3 million of tonnes of dredge spoils inside the marine park, but the government APPROVED it anyway.
No wonder local fish stocks have been decimated, with local fishing industries trashed.
The World Heritage Committee has placed the Great Barrier Reef on the endangered list.
USA President Obama commented on the decline of the Great Barrier Reef during the G20 meeting in November 2014 (much to the disapproval of the LNP who continue to live in denial).
Does Australia have the political will to turn this around?
We will protect the Great Barrier Reef from destructive developments.
ALP will not; LNP will not – they are the ones approving the damage.
---
We will protect the Great Barrier Reef.
---