Ban greyhound racing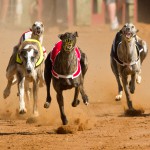 * Greyhound racing exploits animals & exploits peope (gambling).
* ABC-TV program 4Corners (16 Feb 2015) exposed appalling cruelty within the greyhound racing industry.
* The NSW government launched a Special Commission of Inquiry. The report was delivered on 16 June 2016:
www.greyhoundracinginquiry.justice.nsw.gov.au
* The Inquiry uncovered a systemic culture of animal welfare abuse (see below).
* Mike Baird (then NSW Premier) said,
"The only humane response, is to close that industry down."
&nbsp However, Mike Baird then backflipped, due to pressure from vested interests.
* The ACT parliament passed legislation (28 Nov 2017) banning greyhound racing from May 2018.
---
We will ban greyhound racing, Australia-wide.
---
NSW Greyhound Inquiry:
* Mass slaughter ("wastage") of healthy young dogs that were too slow.
* Mass slaughter ("wastage") of healthy older dogs.
* The governing body (Greyhound Racing NSW - GRNSW) couldn't be trusted.
* GRNSW knew about live animal baiting (Board documents 2009-2010), but did nothing.
* At least 10-20% of trainers (some insiders estimated most of the trainers) used live baiting.
* Some trainers continued to support live baiting, even after the 4Corners program.
* Greyhound deaths on race tracks were deliberately not reported.
* GRNSW deliberately under-reported greyhound injuries from race meetings.
* More than 20% of greyhounds suffered injuries due to racing.
* GRNSW only managed to rehome 593 greyhounds between 2007 - 2015.
* Of the 97,783 greyhounds whelped in NSW (2007-2015) only 6,809 could be accounted for.
* Only 6% of greyhounds were kept for breeding after their racing careers. Most of the rest were killed.