Protect farms from Coal Seam Gas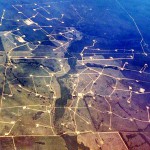 * Australian farmlands should be protected from intrusive mining and coal seam gas operations.
* Why should farmers be powerless to stop mining companies entering their farms, and watch powerlessly as their properties are turned into CSG industrial zones?
* Farms are being damaged and devalued by networks of roads, compressor stations & salt laden waste water ("produced" water) evaporation ponds.
* Underground aquifers are at risk from permanent damage due to the injection of chemicals at high pressures to fracture rocks.
* One CSG company was granted permission by the QLD government to dump 20 million litres every day of "produced" water into the Condamine River.
---
We will protect farmers, farms and aquifers from CSG mining.
---